When you have a wife who loves horses, your life will eventually be taken over by them as well. For the past three years, we have been the care taker of several horses. Currently, the farm has 2 horses and a donkey. I was as unfamiliar with horses as my wife is with officiating. Lots of time and chores have garnered me with the confidence to handle the large beasts.
Horses teach you a lot of things about yourself. Without confidence, an injury is bound to happen. I have a saying that goes, "if a horse is 1200 pounds, then you have to act 1201 pounds." You must respect the horses and understand their basic instinct as a prey animal is to flee danger. I'm in no means an expert on horses, but the patience they have given me has helped in other parts of my life. In addition, to get them to do what you want, a small treat can go a long way.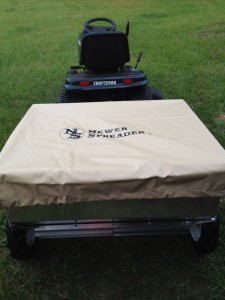 One of the best purchases we have made since moving to the farm is our Newer Spreader. It is a manure spreader that attaches to a riding lawn mower or ATV. We opted for the largest model (#200) since we've boarded horses in the past and can accommodate up to 5 animals. In the past, someone in the family had to lug a full wheel barrel 100+ yards to the pasture and manually spread the manure. Unfortunately, it would become too concentrated and caused more problems. Installation was pretty straight forward. It took us about 4 hours from box opening to hook up to the lawn mower. Now, manure spreading is more enjoyable and better for the pastures. After 2 months of use, it has been a real help for the farm.