It's been a month since Code on the Beach 2015. Here is my review of the conference as an attendee and a speaker.
TL;DR - it's amazing conference that you must attend in 2016!
Code on the Beach 2015 was everything I was hoping it would be, and more. This is the third year of the conference and it gets better every year. Code on the Beach is a software engineering conference that takes place at One Ocean Resort in Atlantic Beach, Florida. This year's version had the right mix of knowledge and entertainment. It was also the first time I presented a session. I had the unique opportunity to see the conference from the point of view as an attendee and speaker.
Keynotes
There were three keynote speakers at Code on the Beach. One on Friday afternoon, Saturday morning, and Sunday late morning. Previous keynote speakers include: Scott Hanselman, Charles Petzold, and John Papa. This year's group had a lot to live up to.
Keynotes can make or break a conference. With most participants in attendance, the speakers have to deliver top notch presentations. The keynote speakers at Code on the Beach 2015 had the right mix of entertainment, inspiration, and information.
Al Letson (pictured above) was the Friday afternoon keynote. You might know Al from his NPR show State of the Re:Union. He was the first non-technical keynote speaker I've seen at Code on the Beach. Several attendees, my coworkers included, were hesitant to watch his presentation because of his lack of technical skills. Within 30 seconds, Al changed their mindset. His background in poetry slam inspired the other speakers to improve our presentation skills. His insight showed us how to use our creativity to solve problems. Regardless of our background, we can make a difference. You can find Al on his website, twitter, or listen to his entertaining podcast Errthang.
On Saturday morning, Stacey Mulcahy gave a great keynote on how to be more playful at work. It was empowering to see a women keynote speaker. I am concerned about the attitudes among male programmers when it comes to women in the industry. The more women like Stacey and Bett Correa (see below) that give presentations, the better we will be. You can find Stacey on her website or twitter.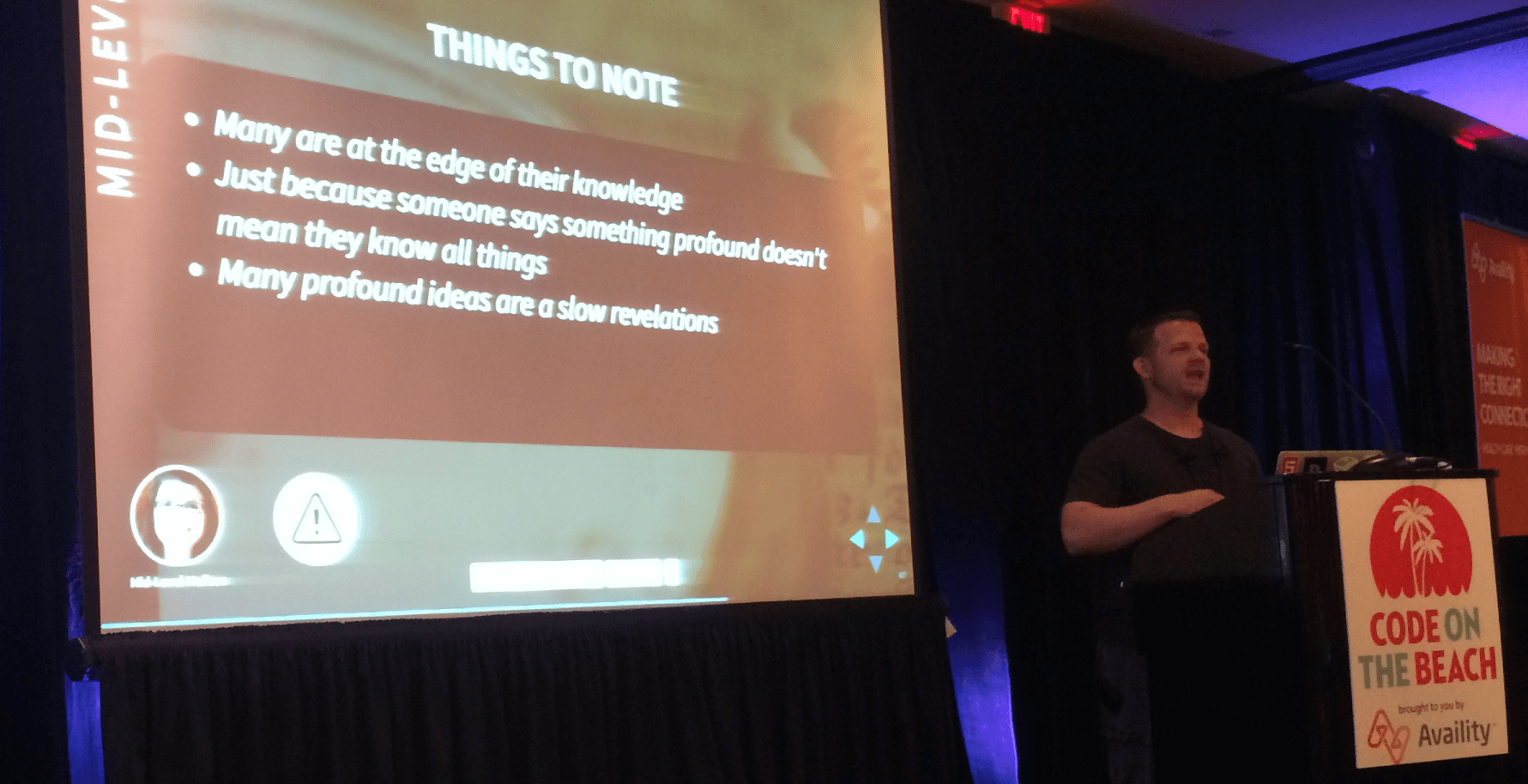 Elijah Manor (pictured above) gave the closing keynote on Sunday. His keynote focused on becoming a better developer by focusing on where you are in your career and what steps to take. I had the opportunity to talk to Elijah earlier in the day (after a session he gave). He works for Dave Ramsey's company and I told him how Dave changed my life. He was kind and brilliant. You can find Elijah on his website or twitter.
Sessions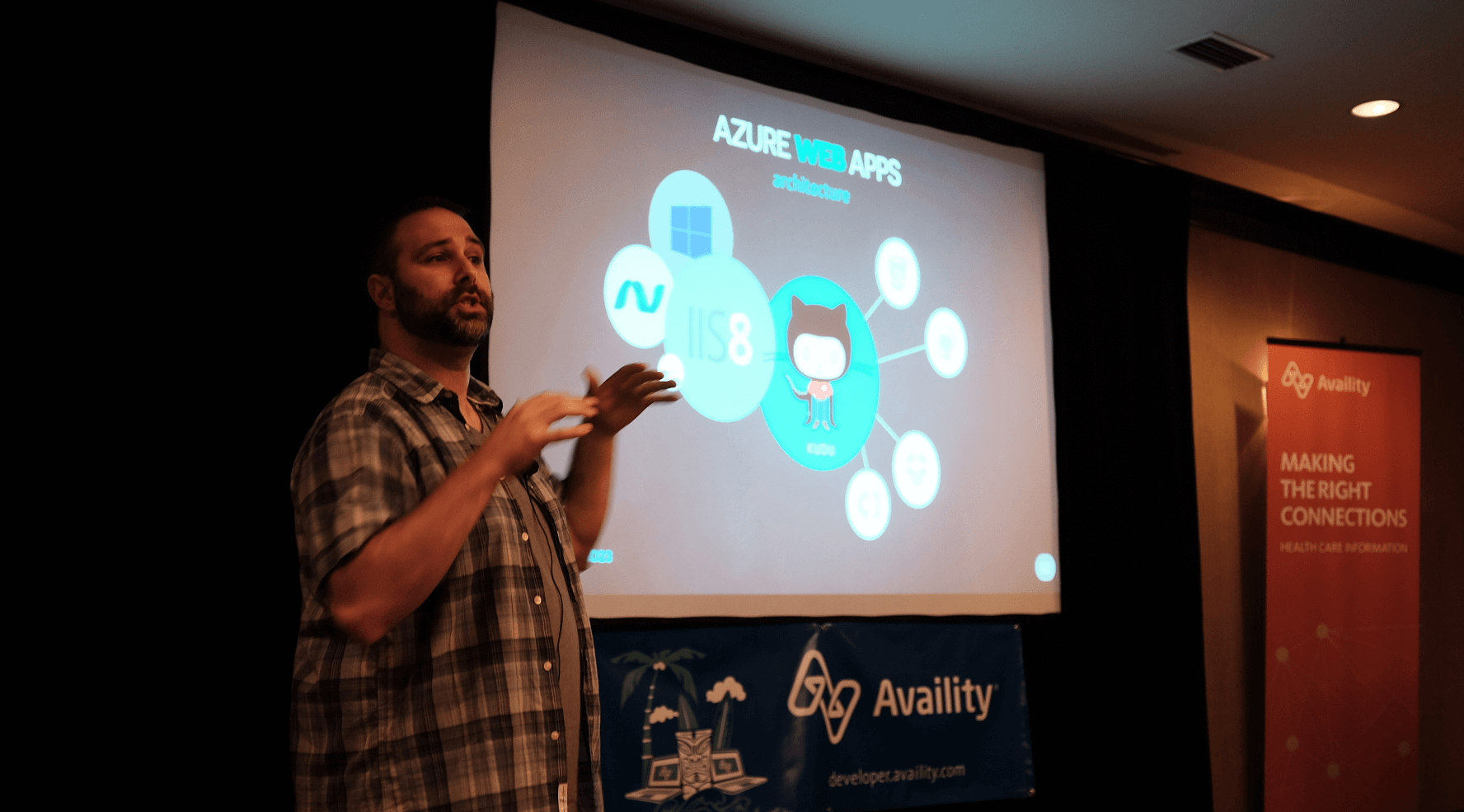 Code on the Beach 2015 had four session tracks so there's plenty of great content to watch. This years tracks were: Cloud & Web; Services & Data; Mobile & Games; and Beyond Code.
Nik Molar (pictured above) had two sessions under the Cloud & Web track. You might know Nik as one of the co-founders of Glimpse. My coworkers raved about his first session. I made sure to attend his other session: Azure Web Sites Secrets, Exposed. Nik is an experienced presenter who manages to incorporate humor into a technical presentation. You can find Nik on his website, twitter, or at the Glimpse GitHub page.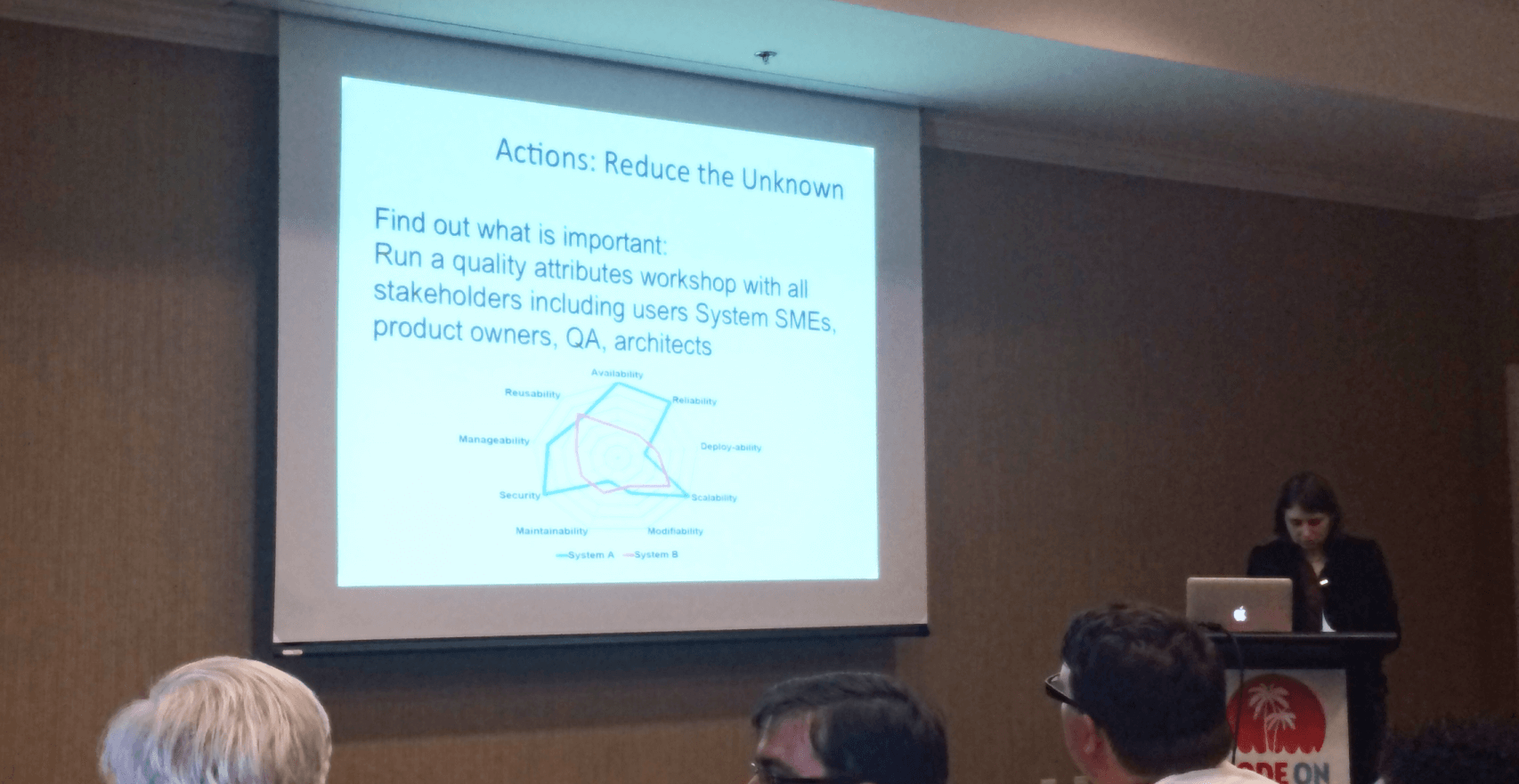 My favorite session of conference was by Bett Correa. Design Decision Making Techniques was exactly the kind of information I was hoping to get from the conference. As a new software architect, I struggle to make the best decisions with limited time and resources. Bett gave us actionable ways to figure out what's important and use that to help make the tough decisions. It also helped that my coworker won a copy of all of her books! You can find Bett on her website; twitter; or on the podcast she co-hosts, Architectural Concepts.
Speaking at Code on the Beach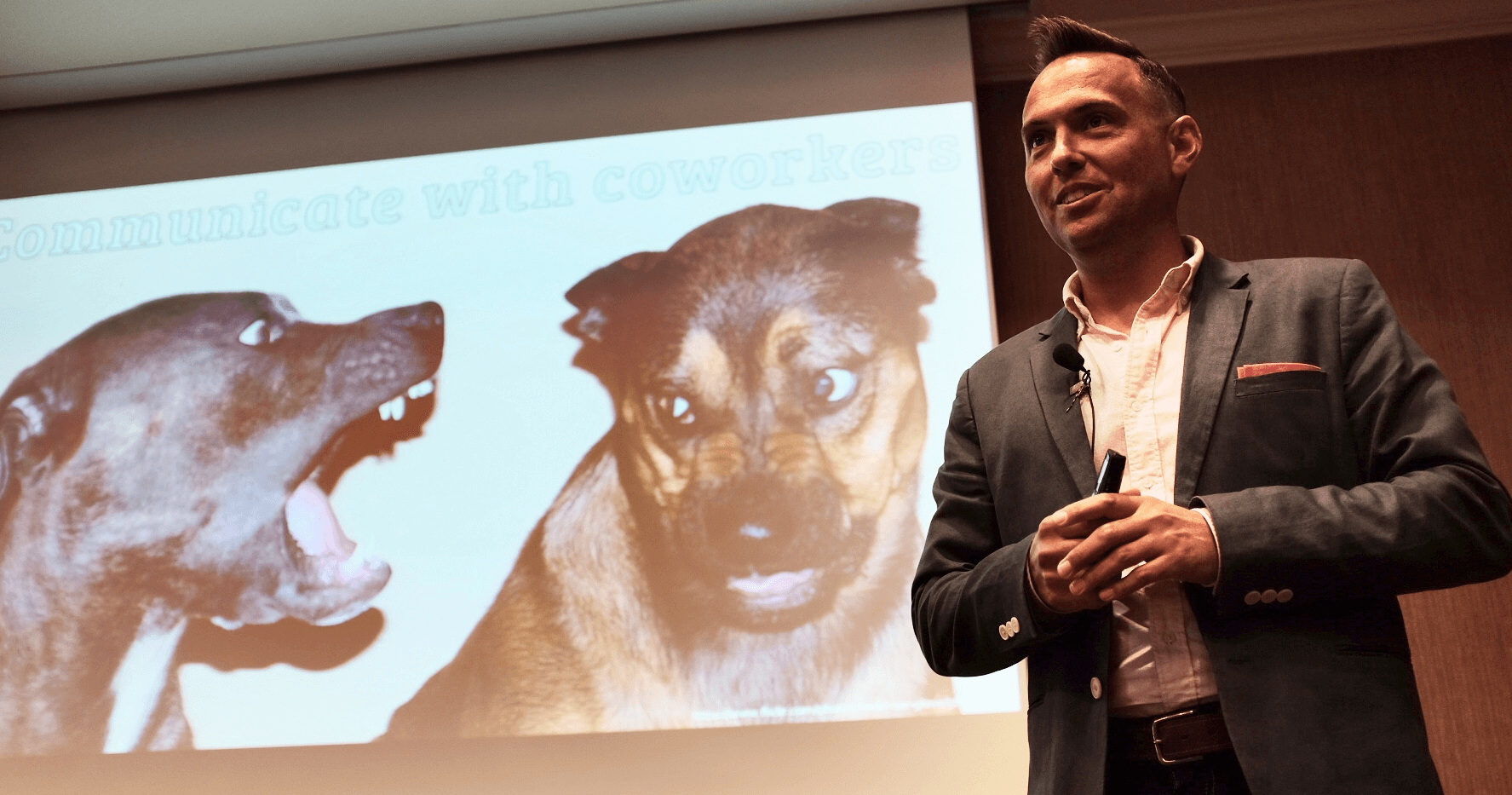 Speaking at a conference has been a goal of mine for the past couple of years. There were other opportunities to speak at conferences, but I felt that Code on the Beach was the perfect fit for me.
It wasn't until I saw Bett Correa's sesssion in 2014 that I realized how to prepare. I saw in her bio that she's involved with Toastmasters. I knew Toastmasters helped with public speaking, but it didn't occur to me until I saw how well organized and professional Bett was. I joined Toastmasters in October 2014 and spent the next 10-months shaping and refining sections of my presentation. Toastmasters changed my life. If you've thought about giving a presentation (or want to improve on your speaking skills), Toastmasters is the best environment to get positive feedback and practice without judgement.
I presented a session on Soft Skills at Code on the Beach. Soft skills are the areas of our work that we tend to not focus on: communication; leadership; and productivity. I've noticed that a lot of software developers focus on the technical skills in their life and ignore the non-technical ones. This leads to an imbalance in their life and results in stereotype of developers being overweight, unable to communicate, and limited leadership skills. You can view my slides at slideshare or click through them:
One of the best things I did to help my presentation was to give it to a group of non-Toastmasters. Four days before I was scheduled to speak, I gathered 10 of my co-workers into the conference room and ran through my session. The practice session didn't go as well as I hoped it wold. My coworkers provided open and honest feedback that help me organize my speech better. They also added suggestions to improve my slides and talking points. Without their help, the speech wouldn't have gone so well.
Location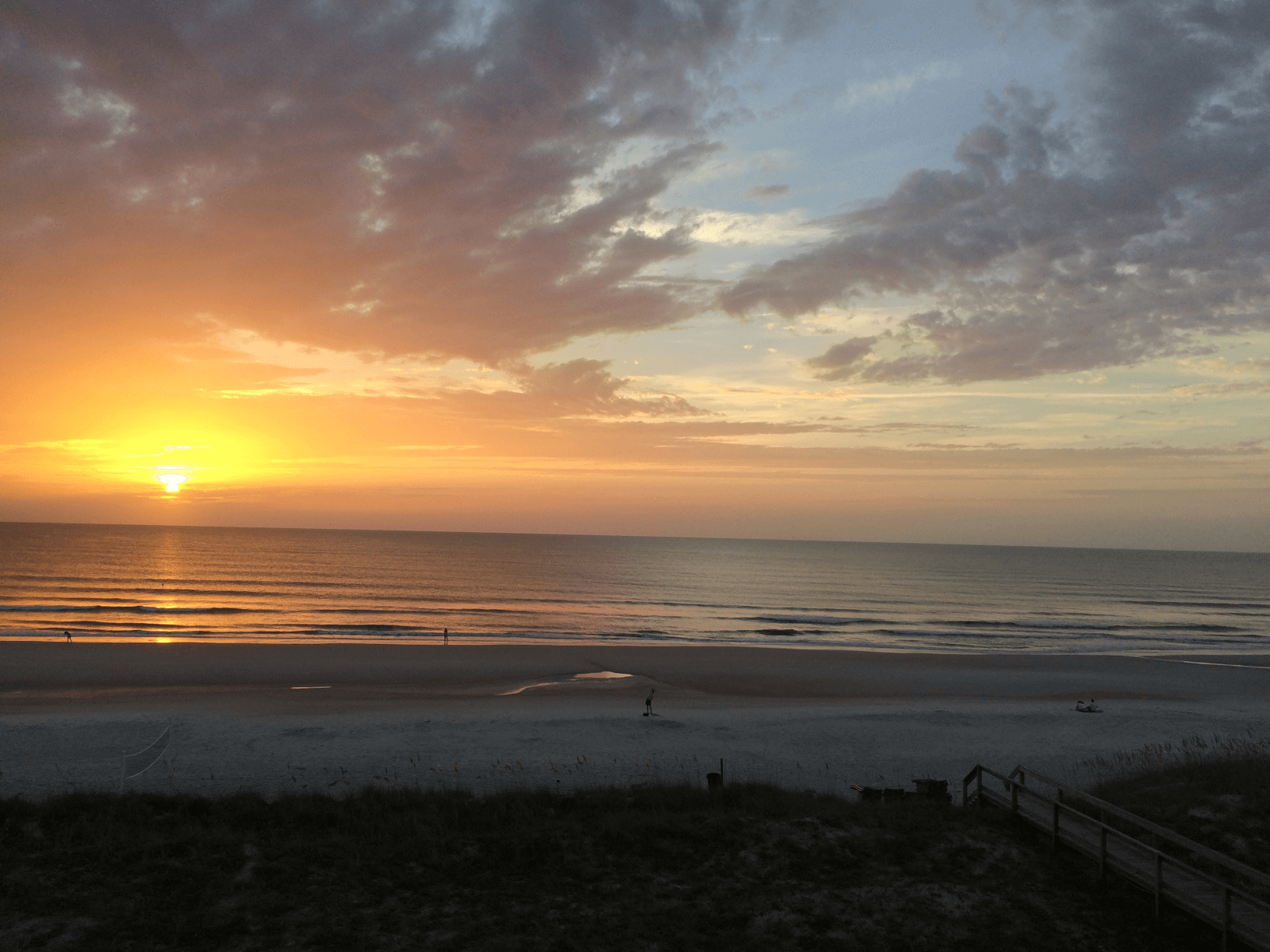 Code on the Beach takes place at One Ocean Resort in Atlantic Beach, Florida. Unless you are staying on a boat, you can't get any closer to the Atlantic Ocean. I took the picture above from the balcony of my hotel room. One Ocean gets everything right. From the time you check in, until you are headed home, the people that work there do whatever it takes to make your stay enjoyable. One Ocean has a bar, restaurant, and a beautiful pool to keep you occupied while you aren't learning. There are also a multitude of bars and restaurants within walking distance to visit at night.
All sessions and keynotes for the conference take place in the hotel. This makes logistics convenient if you are bringing your family. You won't find a better location for a technical conference.
Conference Schedule and Cost
The conference runs for three days. Starting on Friday at 1pm and ending on Sunday at 12pm. My favorite part of the conference is that they build in 2.5 hours of beach and pool time on Saturday. You can have fun without feeling like you're missing out on great sessions.
The 2015 standard registration fee was $350. They always offer early-bird and group discounts. Even if you pay the full fare, you'll get triple your money's worth. If your company won't pay for you, it's affordable enough that you can pay for it out of pocket without risk. The conference is the perfect gateway into personal development.
Go and Speak at Code on the Beach 2016
Do you live in the southeast? If so, you must attend Code on the Beach 2016. If you're a student, developer, architect, DBA, or IT professional, it's the perfect opportunity to hear experts speak and meet new people in the industry.

If you have ever thought about giving a technical presentation, Code on the Beach is the best place to start. The conference organizers want people who have never given a presentation to speak. Here is an excerpt from their CFP:

>The wildcard opportunity category of speakers is new for 2015 will fill at least 10% of our speaker slots. This gives speakers that do not have much speaking or professional experience the opportunity to speak at our world-class conference, which is a great launch point into future conference speaking opportunities. So if you have never spoken at a conference before, or do not have much work experience, or are a student, please submit to our CFP if you're interested, as this category of speakers may give you the opportunity that would be difficult otherwise to achieve!
Code on the Beach 2016 Information: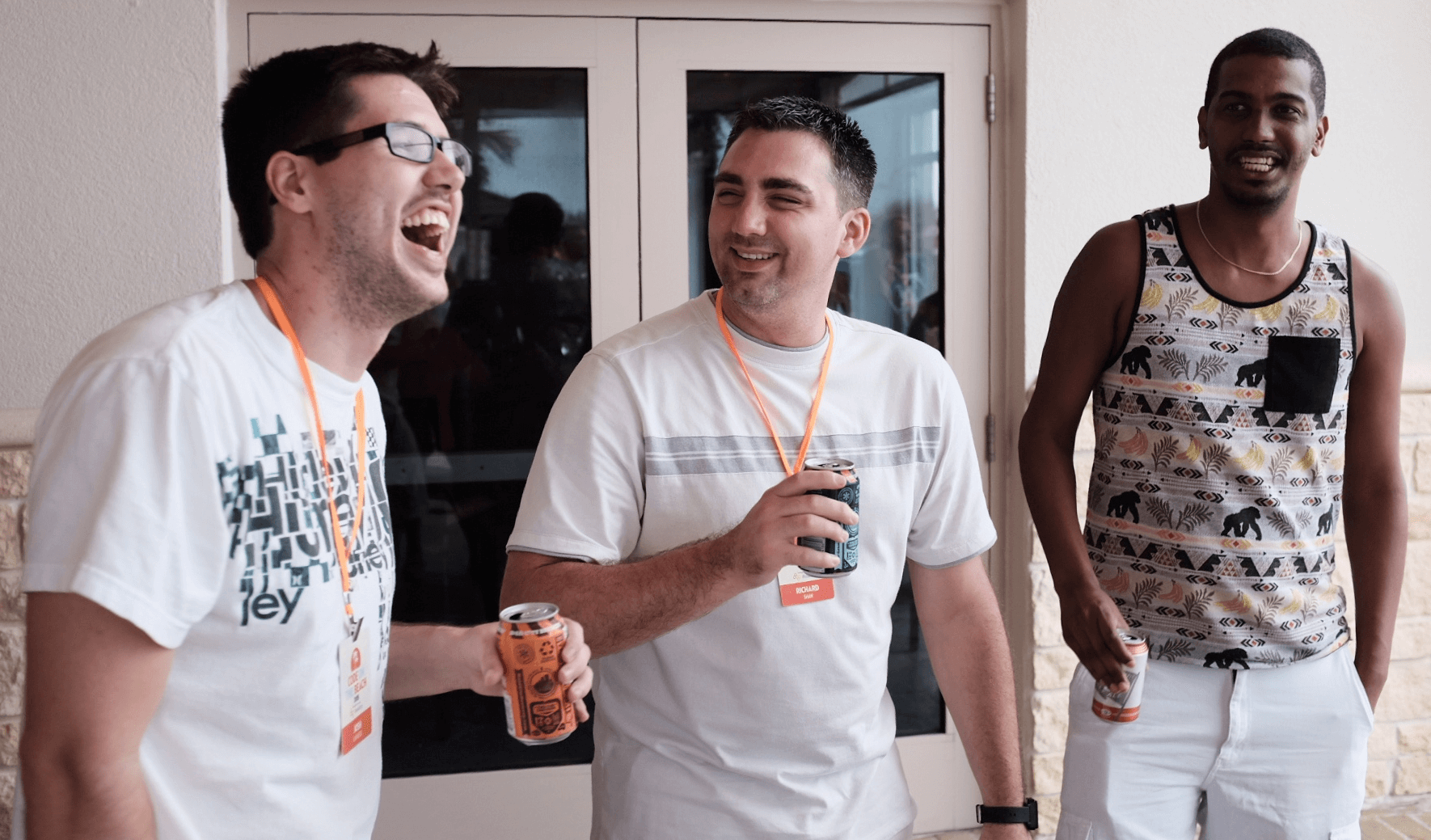 Image credits: https://flic.kr/s/aHskhKGNrF