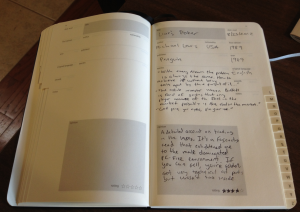 In the Millionaire Next Door, Thomas Stanley investigates what real millionaires do in their lives that make them different from the non-wealthy. These aren't the typical millionaires you might think about. They're not lottery winners, rappers, athletes, or reality stars. These people have several special traits that set them apart from non-millionaires. The book really changed the way I think about daily and large purchases. One of the ideas the book mentions is that the average millionaire reads one non-fiction book a month. Two Christmases ago, I bought my wife a book journal to keep track of the books she read and her thoughts. Last year she read 159 books and has her own small library at school where she loans out books for kids.

I received my own book journal last December and have been reading more this year than I ever have. It really helps motivate me to finish a book to write my thoughts and reviews. Here are a few of my favorites from this year:

What books have you read recently that you recommend?