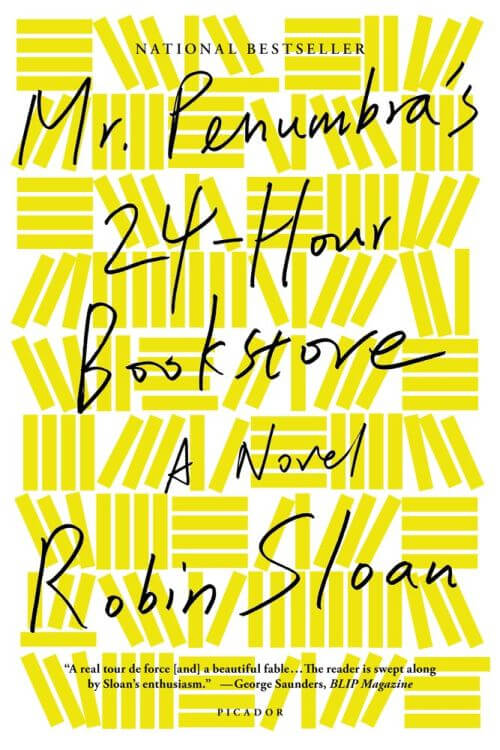 If you're looking to read a book that is a mix between Ready Player One and The Da Vinci Code, this is the one for you. This is the perfect book to veer to the fiction side if you've read a bunch of non-fiction. Robin Sloan combines technology and mystery to keep you engaged all the way through the final page. You won't be disappointed!
Book Description
The Great Recession has shuffled Clay Jannon away from life as a San Francisco web-design drone and into the aisles of Mr. Penumbra's 24-Hour Bookstore. But after a few days on the job, Clay discovers that the store is more curious than either its name or its gnomic owner might suggest. The customers are few, and they never seem to buy anything--instead, they "check out" large, obscure volumes from strange corners of the store. Suspicious, Clay engineers an analysis of the clientele's behavior, seeking help from his variously talented friends. But when they bring their findings to Mr. Penumbra, they discover the bookstore's secrets extend far beyond its walls. Rendered with irresistible brio and dazzling intelligence, Robin Sloan's Mr. Penumbra's 24-Hour Bookstore is exactly what it sounds like: an establishment you have to enter and will never want to leave.
My Favorite Quotes
"I have [a Kindle] and I use it most nights. I always imagine the books staring and whispering, Traitor!"
> "Why does the typical adventuring group consist of a wizard, a warrior, and a rogue, anyway? It should really be a wizard, a warrior, and a rich guy. Otherwise who's going to pay for all the swords and spells and hotel rooms?" > "I sit up straight and do the first thing a person is supposed to do in an emergency, which is send a text message."

Pick up your copy at Amazon.